Annacia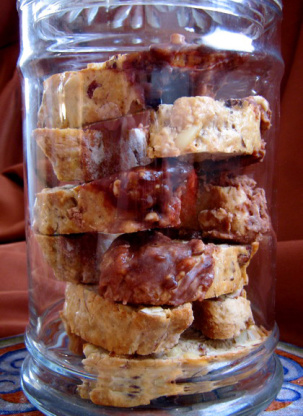 From Flora's Recipe Hideout

WOW, these small biscotti are packed with the most wonderful flavor! I used Splenda (regular and brown) and egg whites only to make it diabetic friendly. These grand cookies are crammed with nuts so you get the crunch of the cookie part and also from the nuts. I melted some white chocolate chips and bittersweet chocolate to dip them in. It didn't turn out looking so good but, boy, does it taste good! They are easy to make, slice nicely (no crumbling) and the timing given is good. I did give them 2 mins extra to get a golden finish on them. Thank you cookie SO MUCH for posting this recipe.
Sift together the flour, baking powder, and salt; set aside.
Beat the eggs until light, add the sugar gradually and beat until the mixture is ribbony, about 10 minutes.
Stir in the orange rind and Godiva Liqueur.
Add the sifted ingredients and blend on low speed until incorporated.
Fold in the almonds, hazelnuts, and pine nuts until blended.
With lightly floured hands, form 3 loaves, each 12 inches long and 2 inches wide; place on a buttered baking sheet and brush with egg wash.
Bake in a preheated 350-degree oven for 20 minutes until lightly golden. Remove from the oven, and using a serrated knife, immediately cut diagonally into 3/4 inch slices.
Lay the slices on their sides on a sheet pan, return to the oven and bake for 6 minutes on each side or until golden brown. Remove from the oven, cool and store in a tightly covered container.
Serve drizzled with additional Godiva Liqueur.