Gobble Them up Oatmeal Raisin Cookies
fawn512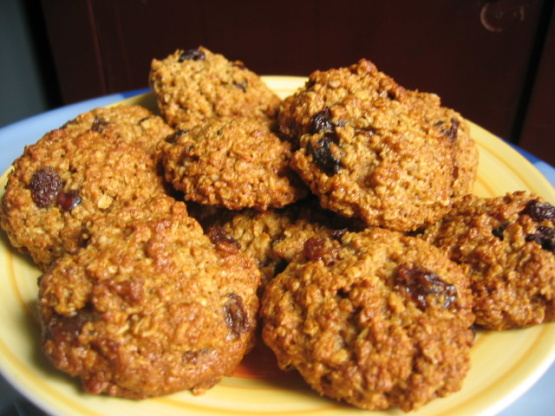 I call these my "Gobble Them Up" cookies because they are so healthy and delicious, you won't just want to eat one! They are bite-sized cookies, the star ingredient is the oats and there is just enough flour to hold all the ingredients together.

I gobbled these cookies right up! They were so satisfying with a wonderful toasted flavor. They would be a good choice for a breakfast cookie, too. I used white sugar. Thanks Hellokitty, for posting. Roxygirl
Preheat oven to 350 degrees F.
Whip egg until mixed, add raisins, water and vanilla. Set aside for at least an hour to plump the raisins.
Cream together canola oil and sugars, mix together well.
Mix together flour, oats, wheatgerm, sugar, salt, baking soda.
In the egg and raisin mixture add in the milk.
Add the dry ingredients to the egg and raisin mixture and blend well.
Drop rounded tablespoons of cookie mixture onto a silpat or aluminum foil covered cookie sheet. You can also shape them into little balls with your hands.
Bake at 350 degrees F for 10-12 minutes or until edges are lightly brown.
Cool for five minutes and enjoy!