Gobble Me Up! Turkey Baked Beans
Rita1652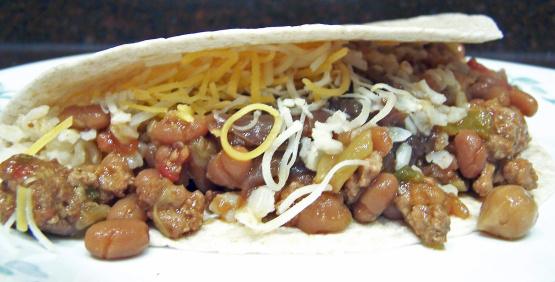 Sweet & sassy baked beans, featuring lean ground turkey, are easy to throw together & slow cooked in the crockpot. Serve as a side dish or add crusty bread and a green salad for a filling main dish. With the kick of Rotel tomatoes balanced by tangy orange marmalade, your family is sure to gobble this up! Created for Category Craze-E #1, Fall 2008 contest but removed so I could post the other entries.

I wanted to make this for a while now. Glad I did. The marmalade comes through so nicely. I skipped the salt and bacon. Used all undrained cans of beans and 5 cloves of garlic. Doubled the celery seeds and chili powder. I did added 1/2 can of leftover chick peas. I place it in a tortilla with brown rice and cheese. Thanks!
Drain one can of pork & beans, do not drain the other. Pour both into the crockpot.
Chop the bacon into 1 inch pieces (removing any large areas of fat) & fry on the stove til almost crisp, but not quite. Drain grease. Add bacon to crockpot.
In same frying pan, crumble & brown the ground turkey. Drain & add to crockpot.
Add the last 8 ingredients & stir well.
Set crockpot to low setting & cook for 6-8 hours.