Goat Cheesecake With Lemon Curd and Raspberries (By Bird)
Prep 30 mins
Cook 5 hrs 30 mins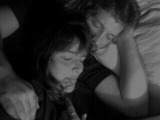 Elegant best describes this recipe.
Directions
FRESH LEMON CURD: In a double boiler, over medium heat, whisk all the ingredients together. Cook the sauce until thick, about 10 to 12 minutes, stirring constantly. Remove from the heat and cool. Makes about 1 ½ cups of Lemon Curd.
CAKE: Preheat the oven to 350 degrees F. In a small mixing bowl, combine the butter and graham cracker crumbs together. Press the crust into the bottom of the prepared pan.
In an electric mixer, beat the cream cheese until smooth and creamy, about 5 minutes. Beat in 1 cup sour cream, Goats cheese, and sugar until the mixture is smooth, about 2 to 3 minutes. Scrape the sides of the bowl occasionally.
Beat in the eggs, one at a time. Add the vanilla and lime juice and continue to beat until the batter is full incorporated and smooth. Pour mixture into the prepared pan. Then place the pan into a waterbath. (a waterbath is a pan larger than the cake pan, filled with water half the height of the cake pan).
Bake for 1.5 hours, or until the center reaches 147F with an instant read digital thermometer. Remove the cake pan from the larger pan and set aside to cool on a rack.
Run a knife between the cake and the rim of the pan. Do not release the spring. Refrigerate a minimum of 4 hours.
SAUCE: In a small bowl, whisk together the 1/2 cup sour cream and Grand Marnier. Spread over the top of the cake. Serve the cake with the lemon curd and some fresh raspberries.
Most Helpful
OH MY WORD!! This is a FANTASTIC cheesecake! I'll never go to cheesecake factory again! It's so smooth and creamy, not thick and heavy like the store bought. Sinfully rich and delicious! I skipped the sour cream and Grand Marnier, I just didn't like the strong alcohol taste it had after mixing it up. The fresh lemon curd is FABULOUS! and is the perfect tart to cut the sweet of the cake. This really was fantastic and I'll be making it many times over!!