Goat Cheese With Paprika, Garlic, Sun-Dried Tomatoes and Capers
Prep 10 mins
Cook 15 mins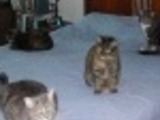 Using typical Spanish ingredients, this tapa is quick and easy to prepare and has a deliciously smokey, yet salty taste. Roasted garlic and paprika are mixed with fresh, soft goat cheese, then spread over rustic bread and topped with sun-dried tomatoes and capers. From Lisa and Toni Sierra on About.com, changed a bit. Posted for ZWT 5 and haven't tried it yet.
Directions
Remove goat cheese from refrigerator, unwrap and let it to warm to room temperature.
Heat oven to 350 degrees Fahrenheit and place the garlic cloves, unpeeled, on a pan and drizzle a small amount of olive oil over the top. Place in hot oven and roast until garlic is soft, about 15 minutes. Remove and allow to cool.
Add the paprika to the goat cheese. Skin and add roasted garlic to the cheese. Add olive oil and mix. The cheese will turn a pinkish-orange color.
Cut baguette into slices about a 1/3-inch thick. Spread cheese mixture on each slice. Place sun-dried tomatoes and a caper or two onto each slice of bread.
Reviews
Most Helpful
I did really enjoy the sun dried tomatoes and the bite of capers in this yummy spread. Thanks! Made for Vegetarian Swap March 2010.

I made this goat cheese spread as an appetizer for Father's Day. It was really good. What really made the dish was the how the topping of sun-dried tomatoes and capers really complimented the spread. I would make this recipe again. It is easy and comes together quickly. Thanks!

Deeply delicious, these really are wonderful, I added just a spritz of lemon juice at the end just because the particular cheese I used was very rich. Thank you for posting this, I will use it often, tagged for ZWT5