Mme M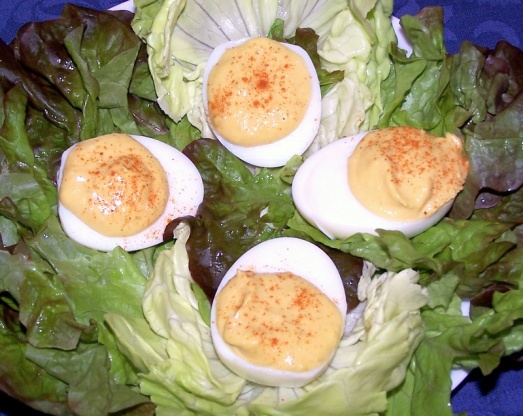 From Paula Deen. Haven't tried yet, but have heard they are great.

Top Review by Mme M
I liked it! I realize this is from Paula Deen, but I think this recipe could be easily improved, because the yolk mixture was too runny, and there was too much of it for stuffing. I would blend the yolks with the goat cheese (and less mayo), pecans and celery. Then, I would put about 1/4 teaspoon of chutney in each egg white half before filling with the yolk mixture. That would work well!
Halve eggs lengthwise.
Remove yolks and place in a small bowl.
Mash yolks with fork and stir in goat cheese, mayonnaise, chutney, pecans and celery.
Add salt and pepper, to taste.
Fill egg whites evenly with yolk mixture.
Garnish with parsley, goat cheese and pecans, if desired.