Goat Cheese + Pasta + Asparagus = Yum!
Annacia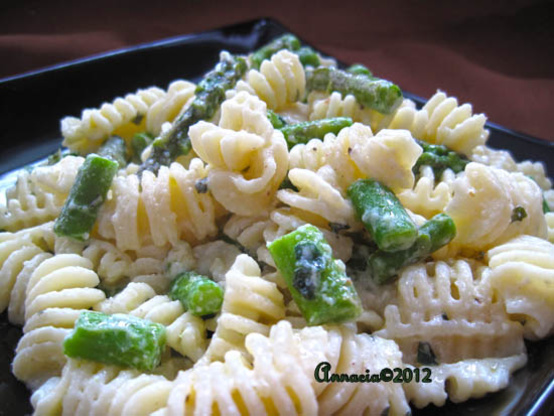 Hahah my friend gave me this recipe and in lack of any other name, she put this as the email subject line. Works for me :) Just a fair warning: make sure you like goat cheese before making this recipe as it is definitely the predominate taste.
So yummy! So easy. Decided to make as a side dish, but could easily have eaten it as a main course! Thanks Sofie! Made for Culinary Quest 2014, Int'l Agents of Quest!
Cook your pasta in a large pot of until it is almost tender. Add asparagus and cook until firm-tender, 2-3 minutes. Drain both pasta and asparagus together, reserving one cup of pasta water.
Meanwhile, combine olive oil, lemon peel, tarragon and cheese in a large bowl, breaking up the goat cheese as you put it inches.
Add hot pasta and asparagus to bowl, along with a couple slashes of the pasta water. Toss until smoothly combined, adding more pasta water if needed. Season genersously with salt, lemon pepper, and parmesan.