Goat Cheese and Spinach Turkey Burgers
loof751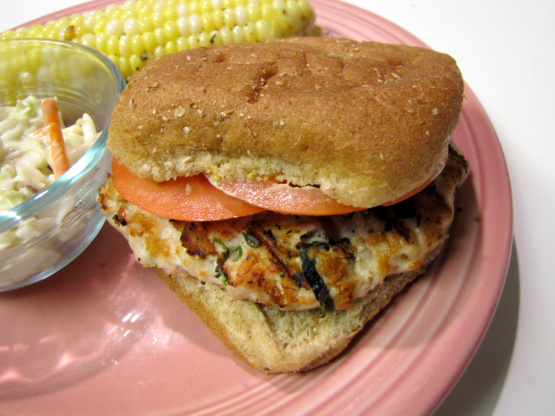 This fast and easy recipe is perfect to make after a long day at work. The goat cheese adds a creamy flavor to sometimes bland turkey burgers. Served with a side salad, it makes a perfectly delicious meal

Great turkey burgers! Loved the addition of the spinach and the cheese did add a nice creamy flavor. Sprinkled the patties with some lemon pepper and grilled over charcoal; served on whole wheat buns with spicy mustard, mayo, and tomato for a nice summer meal - thanks for sharing the recipe!
1 1⁄2 lbs ground turkey breast

1

cup frozen chopped spinach, thawed and drained

2

tablespoons goat cheese, crumbled
your choice rolls or bun
Preheat the oven broiler.
In a medium bowl, mix ground turkey, spinach, and goat cheese. Form the mixture into 4 patties.
Arrange patties on a broiler pan, and place in the center of the preheated oven 15 minutes, or until done.