rpgaymer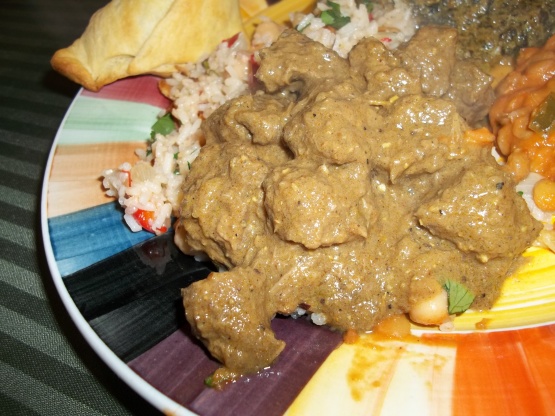 I purchased this wonderful cookbook over the holidays--The Food of India, A Journey for Food Lovers and found this wonderful recipe. It is very easy to put together and is delicious served over rice.

Excellent beef curry, and a wonderful addition to an Indian banquet. I made this with rump steak, so it was tender within 40 minutes. Because my lid wasn't very tight-fitting, I was almost out of liquid by then, so I added a bit extra coconut milk. I have a big crop of fresh Thai hot chillies, so used those in place of the chilli powder. Thanks for posting.
Remove seeds from cardamom pods and grind them in a spice grinder along with the fennel seeds, cloves, cinnamon stick, fenugreek seeds, peppercorns, coriander and cumin seeds. Set aside.
In a heavy skillet or dutch oven, heat the oil over medium heat; add the onions, garlic and ginger, cook stirring frequently until lightly browned.
Add the meat and continue to cook until brown all over; add all the spices and cook for 1 minute; add creamed coconut and 1 cup of water, stir to combine; or stir in the coconut milk.
Cover and cook on low for 1 hour, stir. If the sauce is too liquid, uncover, turn up heat to medium and cook for an additional 20 to 30 minutes or until meat is tender. If you do not need to reduce the sauce, keep covered and continue cooking until meat is tender.
Season with salt to taste and serve over basmati rice.
Please note: This can be cooked in a crock pot but liquid should be reduced accordingly.