3 Reviews
This was DELICIOUS! I cheated and got a container of pre-cut butternut squash, which made the prep time practically nonexistent. I also used lots of fresh rosemary, and reduced fat feta. Last night we had it as our main dish with a yummy arugula salad, and I can't wait to have the leftovers :-). SO good, and so easy. Thank you for sharing this!!
The italian word for squash is zucca ;)
Excellent recipe, very flavorful! I knew I would probably love this recipe when I read the ingredients, but it turned out great too! I used fresh sage, low fat feta cheese and reduced the amount of oil. As a result, the outcome was a bit dry but still very, very tasty. Definitely will make this again. A perfect vegetarian main meal for two. Thanks very much!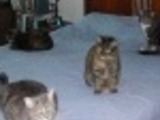 Gnocchi With Butternut Squash (squacchi Perhaps!)