Satyne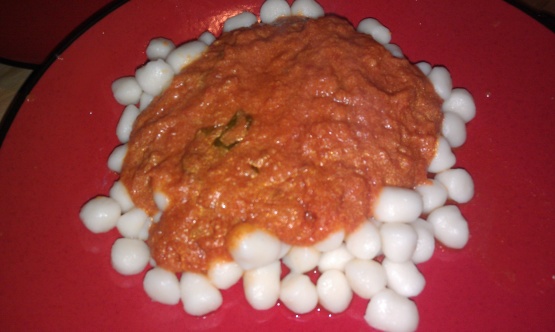 You will love this dish! A simple tomato sauce made richer with a little cream and served over gnocchi. Buy frozen gnocchi to make it easier. Dinner will be ready in 40 minutes.

Thanks for sharing this recipe, Marie! This sauce was easy to make, but tasted wonderful! I just couldn't justify using canned sauce on my homemade gnocci (recipe #288096) and we were really pleased with the result. I did add a tablespoon of sugar to reduce the acidity of the tomatoes. Thanks again! :)
Saute garlic lightly in olive oil, then place in blender with can of tomatoes and tomato paste and blend.
Add back to pan, add seasonings and simmer for 30 minutes.
Add cream and simmer for 10 minutes more.
Serve over gnocchi and sprinkle with grated Parmesan cheese.