Gluten Free Zucchini Carrot Muffins
Jubes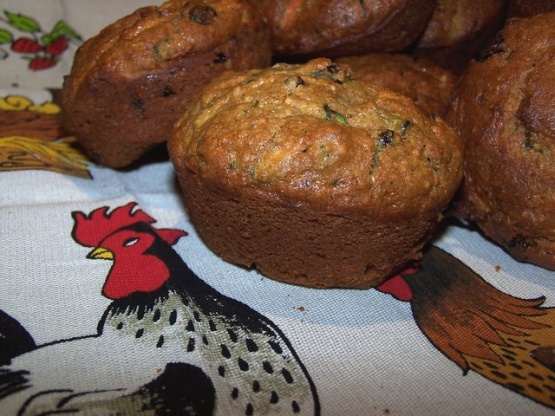 A delicious healthy gluten free muffin that bakes thoroughly, stays moist for days and freezes well.

I like these alot and the recipe is forgiving of substitutions: I used molasses and stevia instead of brown sugar, ground flax and quinoa (since I don't have any whole), and I totally forgot the apple. I put the sunflower and pumpkin seeds in whole, cuz I like crunch. And they are good! I think I'll add a little more spice next time.
Lightly grease 18 muffin cups.
In a medium bowl, sift together the brown rice flour, tapioca starch, potato starch, salt, baking soda, baking powder, guar gum and spices.
Grind the quinoa, flax seeds, sunflower seeds, pumpkin seeds and almonds in a coffee grinder until they are very fine. Add to the dry ingredients and mix well.
In a separate bowl, beat together eggs, oil, yoghurt, sugar, honey and vanilla.
Mix the dry ingredients into the egg mixture.
Fold in the zucchini, carrots, apple and raisins.
Scoop into the prepared muffins cups and let stand for 30 minutes while preheating oven to 375 degrees.
Bake for 25 to 30 minutes until golden brown and a toothpick inserted in centre comes out clean.
Cool 10 minutes in the muffin tin before transferring to wire racks.