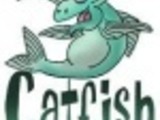 The best tasting GF bread I've found yet, and the cheapest. The ingredients are the key to this bread, so try not to substitute. The flour mix is especially important, so if possible use gluten free flour Gluten Free All Purpose Flour Substitute (http://www.recipezaar.com/110497) to make the cheapest, best tasting gluten free bread you've ever tried. This recipe is adapted and modified from one by Bette Hagman. The biggest change to the original recipe is the flour mix used. Cooking time includes rising, baking, and cooling.
Directions
Combine all dry ingredients except yeast. May be stored in this condition for months in a ziplock style bag.
Preheat oven to 400 degrees F.
Grease 8 1/2 x 4 1/2" bread pan and flour with rice flour, or grease and flour muffin tins for buns.
In heavy duty mixer, whisk eggs and vinegar (or dough enhancer), add butter. Add about 3/4 of the warm water.
Combine yeast with the dry mix and slowly add to the wet ingredients with the mixer on low.
The mixture should be like a very thick cake mix, add more of the warm water as needed.
Turn mixer to high and beat for 4 minutes.
Turn dough out into the pan for baking.
Cover with plastic wrap and let rise in a warm place (on top of oven is usually a good place) until the dough has doubled in size.
Bake in 400F oven for 50 to 60 minutes for loaf, 30 to 40 minutes for rolls. Cover with aluminum foil after 10 minutes for light crust on top, 20 minutes for medium crust on top.
Remove from oven, allow to cool 20 minutes before cutting for best results.
Reviews
Most Helpful
This is a nice, soft, fluffy bread. This is the second time I have made it and it turned out just as good as the first time. This time I doubled the recipe and added 1Tbs vanilla. I made one regular loaf and with the second loaf I added honey swirls and topped it with cinnamon and sugar. It was so yummy! Thanks for sharing this recipe.
I have tried too many GF bread recipes to count and have always been disappointed - this one is a winner - by FAR the best and the closest to 'normal' (and I can eat gluten - it's my family that is Celiac). I increased the recipe by half again and made a larger loaf with great results (the egg increase was 1 egg white). I also mixed by hand. My family simply can't get enough - I am going into mass production!
Wow! Awesome! Super fluffy with tons of air pokets. Very light in texture. I used 1 cup chick pea flour, and then tapioca and corstarch. Would recommend baking at 375 as it did get a bit browner than I prefer.