Jubes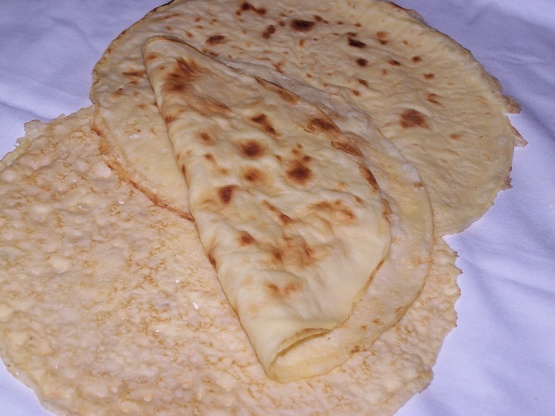 I found this recipe at lesleycooks.tripod.com where she has a gluten free category. I had posted a request for tortilla recipes on Zaar because I needed something like a wrap I could make up for my girl's school lunches. After trying a couple I was kindly given, I found this one had a great taste and texture my kids loved. While it may not strictly be a tortilla it meets the purpose. They freeze well if you separate them with greaseproof paper or baking paper. Do not be put off by the runny mixture, and do leave it to stand for 30 minutes before cooking. I doubled the mixture so I only had to make them once a fortnight - it made up 7 large ones, but the number will depend on the pan you use.

I'm not quite sure how to rate this. I made these using white rice flour instead of the corn flour and 10 oz. of water instead of 12 oz. They turned out pretty good, but like other posters have said, they are a bit eggy - and I'm not sure they make a great tortilla so much as more of a crepe. My kids and I agreed that if they were a bit thicker they would make a good gluten free pancake! Having said all that, when I set out to make these I wasn't looking for a tortilla or a crepe/pancake, I was looking for something I could use as a pizza crust, becasue I didn't have any xanthan or guar gum. So, I made one of these a bit thicker than the others and then topped it with barbeque sauce on one half, and thai almond sauce on the other half. Then, I added my toppings and baked it for about 15-20 min. at 425. It actually turned out pretty good! The bottom was a bit soggy, but I think I could rememdy that by putting it on a baking stone next time (instead of a metal pan). In the end, I guess I am happy to have gotten some semblence of pizza! But, I'm still not quite sure how to rate these! UPDATE #1: I tried again tonight with a thinner left over wrap from two nights before. I still couldn't get the wet texture of the wrap to leave my pan and jump onto my hot baking stone by the time I had all of the toppings on it. But, this time I only had the normal thinner wraps (instead of the thicker one I made specifically to make a pizza the first time), and baked it on a metal pan on the bottom rack in the oven and the outer 2/3 actually started to firm up and turn a bit crisp. I think I might be on to something.... UPDATE #2: I made a half of the recipe again tonight, using 1/4 tsp. garlic granules, and only using about 4 oz. water (still using rice flour instead of corn flour). I ended up spreading the batter onto a hot pan so it was 1/8"+ thick. I cooked it until it was golen brown on both sides. Then, I let it cool and topped it with pizza sauce and toppings, and picked it up, and put it onto a hot (450) pizza stone. I let it cook 10-15 min. and it turned out fairly crunchy around the outside, and fairly substantial in the middle. It still isn't your typical 'bread' crust, but if you like a thin crust, crispy pizza, this just might be for you!
Place the flours and salt in a mixing bowl and mix together thoroughly.
Add the egg and beat until smooth then slowly beat in the water.
Cover with clingfilm and refrigerate for 30 minutes.
Heat a medium sized frying pan until very hot then brush with oil.
Make sure pan is still ver hot, pour in enough batter to just ocver the bottom of the pan.
Cook over a high heat until the bottom of the tortilla is golden brown and the edges begin to curl up.
Flip the tortilla over cook the other side for 30 seconds only (altho I found it took longer).
Transfer tortilla on to greaseproof paper and repeat with remaining batter.
Refrigerate or freeze until ready to use.