Gluten Free - Thin Pizza Crust
ukichix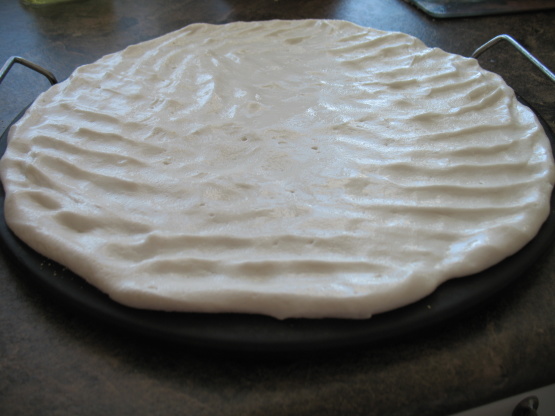 The is THE BEST gluten-free pizza crust!!! A terrific solution for those of us who have been deprived of restaurant pizza. I top this crust with garlic butter, parmesan & mozzarella cheeses and have garlic bread! This crust turns out best when made on a pizza stone.

This recipe is awesome. I've recently resigned myself to a gluten-free diet, and my husband has been missing pizza.For those who are trying this recipe for the first time: the dough is NOT like normal pizza dough. It has the consistency of soft cookie dough. Don't add extra flour. And don't worry, it will be delicious. I scored the dough lightly with a fork after pressing it into the pan.I HIGHLY recommend that after pressing the dough into an oiled pan, that you bake it without toppings for 10-15 minutes. The dough should be mostly cooked, and just starting to brown on the edges. After that, take it out of the oven and add your sauce, cheese and toppings. Finish cooking for another 10 minutes or so.I made some slight changes, after trying the first time. I lowered the oven temp to 425. I added olive oil instead of shortening. I substituted xanthan gum for the potato flour, and the potato starch can be replaced with dried potato flakes. ( I found them in the bulk section at my local Winco. I don't know their technical name. They are very small flakes, about the size of flaked coconut.) I know it sounds strange, but they are cheap and work perfectly.I also added some garlic salt, powdered onion, and dried rosemary. I also tried the pizza crust as deep dish style by doubling the recipe. It worked fine, but you need to cook it awhile longer, and I highly recommend that you let the pizza rest for 10 minutes after baking, otherwise it sticks to the pan. Happy cooking, everyone!
Preheat oven to 450 degrees.
Combine yeast, sugar and 1/2 cup of water.
Let rise till doubled in size.
Combine flours, shortening and optional seasonings.
Combine with risen yeast and remaining 1/2 cup of water.
With oiled fingers, spread dough on pizza stone sprinkled with cornmeal.
Bake in oven for 15 minutes.
Remove and add pizza toppings; Return to oven and bake 10 minutes more.
***Be generous with the flours as you measure and DO NOT BE AFRAID OF THE DOUGH BEING RUNNY! THIS WILL PRODUCE A SOFTER, LIGHTER CRUST *** (I have been known to even add more water that was is called for).