Gluten Free Strawberry Cake
robynm3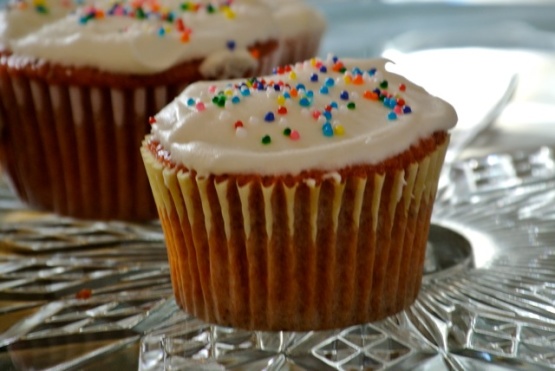 Using "Granny's Strawberry Cake" from RecipeZaar as inspiration, I created this GF cake for my Celiac daughter's birthday. I frost it with a simple vanilla buttercream frosting (pink, of course!).

Just wanted to say... BEST RECIPE EVER!!!
I am not gluten free, but my roommate is, so I found this recipe and made the cake for her... and let me just say, DELICIOUS!
Everyone loved it! She was the only GF person at her party, but everyone was raving about it.
The only revisions I made was I blended the strawberries in a food processor before adding to the mix so that there weren't any big chunks. And I also used a GF Baking Mix (by NOW foods), which already had the salt, xanthan gum, & baking powder in it, so I did omit the salt and xanthan gum, but I added the baking powder still because I had heard that GF baking does better with the extra help to rise.
It cooked beautifully in two 9 in pans and then I lavished some wonderful homemade cream cheese icing on it (1 8oz pkg cream cheese, 1 stick of margarine, 1-2tsp vanilla, 3 cups powdered sugar) and it was perhaps one of the most delicious cakes to have entered my mouth. and trust me, many cakes have entered this mouth. :)
In a large mixing bowl, combine all ingredients. Mix with an electric mixer on medium speed for 2 minutes.
Pour into two greased 9-inch pans. Bake at 350 degrees for 35 minutes, or until toothpick inserted in the middle comes out clean (40 minutes for a 9x13 pan; 20 minutes for cupcakes).