Gluten-Free Sour Cream Coffee Cake
Jubes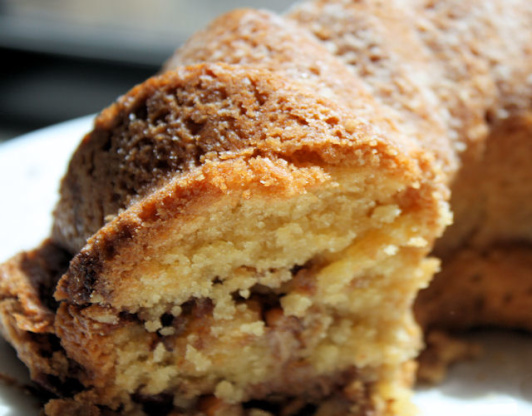 A nice coffee cake to serve on a lazy Saturday morning with a cup of coffee or to take to work on those office party days. NOTE: This recipe can easily be made with all-purpose flour and no xanthan gum for those who do not have an issue with gluten.

Great Coffee Cake! I had to bake it a lot longer than what was called for, but other than that it was easy. It's a great recipe for non-gluten eating people (my husband even loved it)!
* I made it with walnuts.
In a small bowl, combine the pecans, brown sugar and cinnamon; set aside.
In a large bowl, cream butter and sugar until light and fluffy.
Add eggs one at a time, beating well after each addition.
Beat in vanilla.
Combine the flour mix, baking powder, baking soda, and salt; add to the creamed mixture alternately with the sour cream.
Pour half of the batter into a greased and floured 10" bunt pan.
Sprinkle with half of the pecan mixture.
Gently top with remaining batter and pecan mixture.
Bake at 350 degrees for 45-50 minutes or until a toothpick inserted near the center comes out clean.
Cool for 10 minutes before removing from pan to a wire rack.
Cool completely then dust with confectioner's sugar.