katii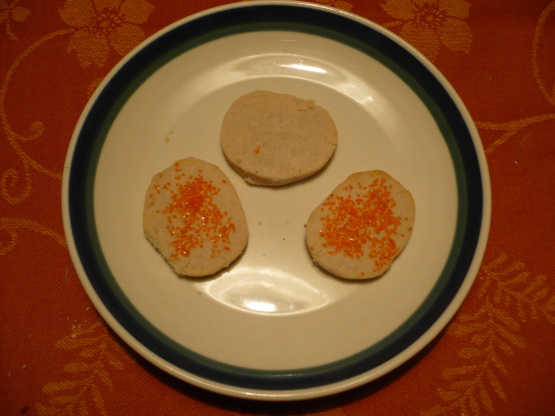 Crisp, delicate, and buttery, these shortbread biscuits are a great treat to have on hand.

Another excellent cookie, Katii! These are easy to make. I keep the rolls in my freezer, and just pull one out and wait a minute before slicing and baking. These are also nice with a bit of melted chocolate drizzled on them. The cookie is sweet, light and very fragile, good buttery taste, and melt in your mouth feel. Thanks for this recipe!
Mix butter, both sugars (not coloured), and flour together.
Work well with hands until it will hold together.
Make 4 rolls about 1 1/2" in diameter, wrap, and chill for at least 6 hours.
Slice 1/4" thick and arrange on a parchment paper lined cookie sheet.
Sprinkle cookies with sugar, if desired.
Bake cookies in a preheated 350* oven for 10-15 minutes until very lightly burned around the edges.
Remove to wire rack to cool.
Enjoy!