Gluten-Free Pumpkin Cookies
katii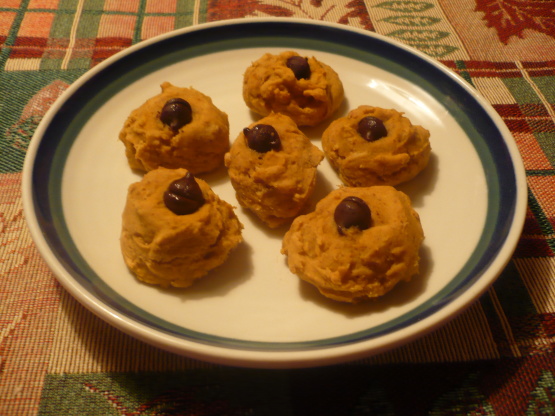 Autumn-flavoured cookies that have a pleasing chewy texture with the hearty taste of pumpkin.

Fabulous! I thought that I was baking these for my gluten intolerant customers, but they were enjoyed by all. If I didn't see what type of flour I had used, I wouldn't have believed it. I used a #50 sized scoop, and got almost three dozen cookies. I'll have to check on how they hold up overnight tomorrow, if there are any left then. Thank you for providing this recipe Katii! update - (I have since made these many times, they hold up very well overnight. I've made them with either chocolate chips or raisins or toasted walnuts, they are equally popular. Today I made them plain, and sandwiched them in pairs with a homemade vegan cream cheese icing, and called them whoopie pies! )
Cream butter and sugar together.
Beat in eggs one at a time and add vanilla and pumpkin.
Stir remaining ingredients together in a separate bowl, then add to other mixture and mix well.
Drop by spoonfuls onto a greased baking sheet.
Bake in a preheated 375°F oven for about 15 minutes until lightly browned.
Cool on wire racks.
Enjoy!