Gluten-Free Polenta-Quinoa Sticks
katii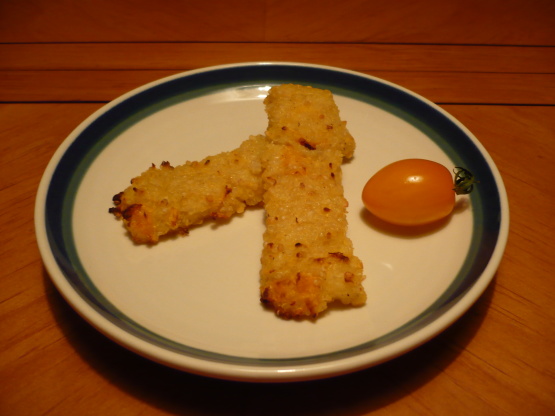 Delicious little breadsticks, these are yummy eaten plain or dipped in marinara sauce. Also great topped with a bit of grated Parmesean cheese.
Put in cornmeal, quinoa, water and salt and pepper in a pot and stir.
Bring all ingredients to a boil, then lower the heat, cove the pot and simmerfor 20 minutes, or until quinoa is al dente.
Let sit, covered, for ten minutes, and then fluff up.
Cool 5 minutes.
Add olive oil and tomatoes and stir to blend well.
Put mixture in greased loaf pan.
Cool to room temperature.
Cover with plastic wrap and refrigerate until firm, about 3 hours.
Invert on cutting board. Cut it into 16 slices (1/2 inch thick).
Place on a parchment-paper lined baking sheet and bake in a preheated 375* oven for 35-40 minutes until crispy, flipping halfway through.
Enjoy!