Gluten Free Pepperoni Pizza Quesadilla
loof751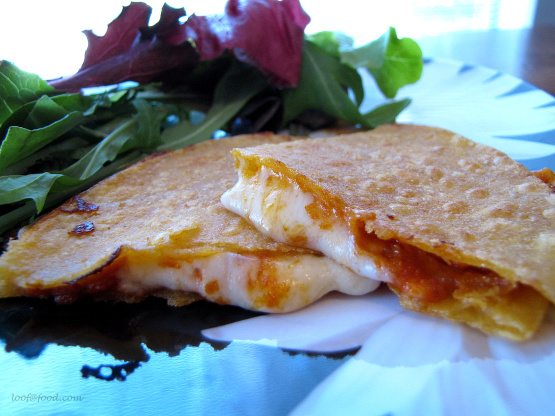 In my quest for gluten-free, yeast-free pizza, I'm always trying different things to get that pizza taste that I crave but can't have. One day a few months ago I was really craving pizza while I was at the grocery store, so I bought some pizza sauce, turkey pepperoni and mozarella cheese and this is what I came up with. Not quite the same thing as the pizza I remember, but a pretty close second and it's ready in a pinch! Note: I've also made this with Italian turkey sausage or just plain cheese depending on my mood.

Delicious!It is much better than I thought and nice a gooey.I have really been craving these and finally found a good way to make them.I am eating one right now.
1

tortilla (I use Food 4 Life's Brown Rice Flour Tortillas)

2

tablespoons pizza sauce (WalMart's Great Value brand is GF)

8

slices turkey pepperoni (Hormel brand is GF)
1⁄4 cup 2% mozzarella cheese (Kraft)
cooking spray
Spread one half of the tortilla with the pizza sauce.
Top with half of the cheese.
Top with pepperoni.
Top with remaining cheese.
Fold top over.
Heat a grill pan over medium high heat.
Spray with oil.
Place quesadilla on grill pan.
Cook for 5 minutes and flip.
Cook for about 2-3 more minutes or until cheese is melted.
Cut into wedges and enjoy!