Gluten Free Oatmeal Bread
EmlyJ98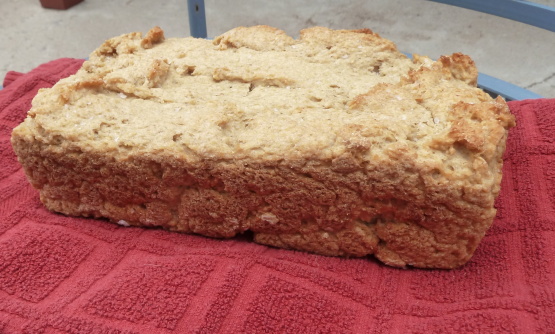 This is a very simple yeast bread recipe from Allergy Cooking With Ease, with no other flours than oat flour (grind oats in your blender). It turned out a little like a sponge bread in texture, but had a nice flavor and did not crumble when slicing. Has a bit of a sweet flavor (I used honey). I have tried a few gluten free breads, and this one turned out great on the first try. Didn't rise as much as I liked, but I'm wondering if that's because I used regular yeast, not quick-rise.

Top Review by ash953
I followed the recipe and found it very sticky as well. I did add some savory items (sundried tomatoes and rosemary). I used the fast-rise yeast as well. It did rise and then I transferred ti to my loaf pans and cooked it. I guess I should have let it rise in the loaf pans. It was heavy and flat. I'll keep tweaking...
Mix together the warm water, sugar or honey and yeast and let themixture stand for abotu 10 minutes or until foamy.
Stir together the dry ingredients in a large stand mixer bowl; Add the yeast mixture and oil and beat the dough for 3 minutes at medium speed.
Scrape the dough from the beaters and sides into the bottom of the bowl and cover the bowl with a towel.
Let rise in a warm place for 1 to 1 1/2 hours.
Beat the dough again for 3 minutes.
Oil an 8x4-inch loaf pan and coat the inside with oatmeal. Put dough in the pan and allow to rise in a warm place for about 20 minutes, or unitl it barely doubles.
Preheat oven to 350° F and bake the loaf for about 75 minutes, loosely covering with foil after the first 15 minutes to prevent excessive browning.