Gluten-Free Oat Fudge Bars (Starbucks Copycat)
katii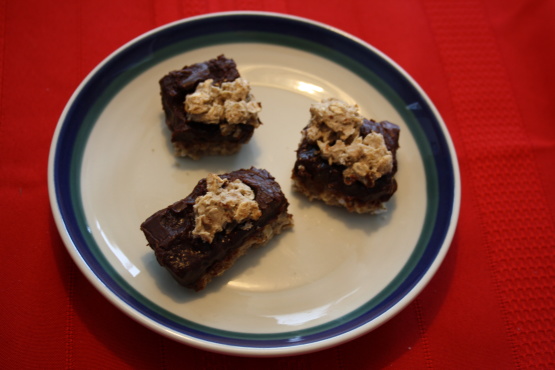 So deliciously irresistable, these amazing treats are almost complete replicas of Starbucks'!
For base/topping, cream butter, sugar, eggs, and vanilla.
Mix flour, soda, cinnamon, and oats and add slowly to creamed mixture.
Spread 2/3 of this into 9x13 pan (it will be a bit thin).
For fudge filling, melt remaining ingredients in a saucepan and pour over dough in pan.
Shape the remaining dough into circles and press them into the fudge.
Bake at 350° for 25 minutes, or until topping is lightly browned.
Let cool quite a bit before cutting into bars, as it will result in a delicious gooey mess!
Enjoy!