Gluten-Free Italian Chicken Tenders
ImPat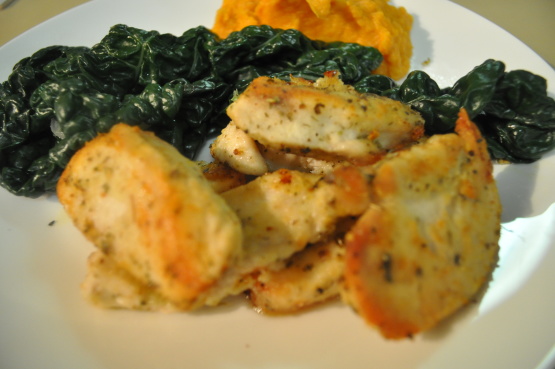 I was making gluten-free Cajun Buffalo Chicken Tenders the other night and knew that they might be a bit to spicy for the kids. So I decided to make some Italian chicken tenders too. I hope you enjoy this simple and tasty dish. For those who do not have an issue with gluten all purpose flour can be used.

Top Review by ImPat
I scaled back for 3 persons and my main concern was the cooking time as I felt 45 minutes for tenderloins was way too long though I did use small chicken breasts which I sliced to tenderloin size and prepared as per recipe and cooked at 175C fan forced for 20 minutes and checked and turned and cooked for a further 5 minutes and had lovely tender flavoursome chicken (the smell while cooking has you salivating in anticipation), the actual tenderloins of the 3 breasts were perfect but some of the small cut pieces were a little overdone but still tasted good. Thank you Chef Buggsy Mate, made for Make My Recipe - Edition 14.
Preheat oven to 400 degrees.
Place butter in a 9"x13" baking dish into oven to melt.
Combine rice flour and Italian seasoning blend and stir well.
Remove baking pan from oven and tip back and forth to coat bottom of pan with butter.
Rinse chicken breast strips and while they are still damp dredge them in the seasoned flour. Make sure strips are well coated.
Arrange chicken strips in pan and place in oven.
Bake 45 minutes.