Gluten-Free Ginger Soy Sesame Chicken
Jubes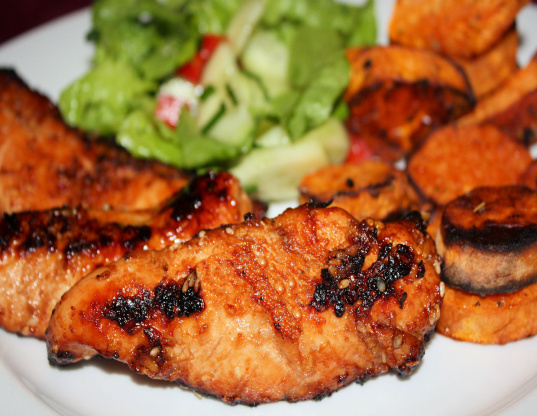 This is a very flavorful chicken dish that is wonderful over steamed broccoli or served atop rice. Best of all it is simple to prepare. Time shown does not include the three hours for marination.

Top Review by ImPat
I used regular soy and clear honey but otherwise followed through but would recommend toasting the sesame seeds before putting them in the mix as I think we were dissappointed this flavour did not come out as much as we would have liked but still an easy mid week dish. I used 700 grams (about 1.5lb) and with rice and side dishes found that more than enough for us served with rice (and the sauce was wonderful over the rice) and steamed vegetables. thank you Chef Buggsy Mate, made for Aussie/Kiwi Swap #47 December 2010.
Mix all ingredients except for chicken in a stainless steel or glass mixing bowl.
Add chicken tenders and stir to coat.
Cover and refrigerate at least three hours.
Place chicken on a jelly roll pan or shallow baking pan and pour liquid over the top.
Bake at 350 degrees 10 minutes, turn chicken over and bake 10-15 minutes longer or until chicken is done.
Serve over rice, or steamed broccoli.