sheepdoc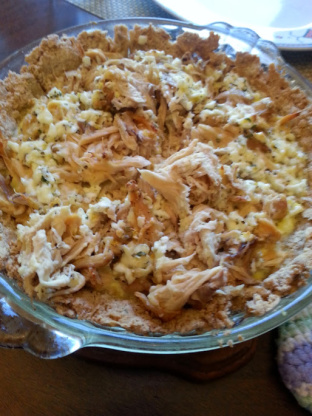 To use up the very dry game from making game broth I made up this pie. It turned out astonishingly tasty. Cooking time is only approximately because after reducing the oven from 400 to 350 degrees I mostly watched the pie and not the clock... The pie should be perfect when the top is light brown and slightly crispy. For the meat I used rabbit and pheasant, but I guess you can use any kind of game or even shredded cooked chicken. For the cream cheese I used goat cream cheese, but you can use any kind of cream cheese.

This was great! I had a little trouble with the crust but I used the pre-mixed gluten free stuff from Costco with flax and ancient grains so maybe that altered it some. Also the recipe says teaspoons of water and the directions say tablespoons of flour. I ended up using 3 tablespoons of water. The inside part was fabulous. I used domestic rabbit. Made for CQ 14.
Crust

1⁄4 cup coconut flour
1⁄4 cup arrowroot starch
1⁄2 cup millet flour

1

teaspoon xanthan gum
1⁄2 teaspoon salt

2

ounces margarine

1

egg yolk
1⁄2 teaspoon vinegar

1

teaspoon italian herbs

1 -2

teaspoon ice water

Filling

2

cups game, cooked and shredded

2

eggs

1

egg white

3

tablespoons cream cheese

2

teaspoons arrowroot starch

1

teaspoon italian herbs
1⁄2 teaspoon salt
1⁄2 lemon, peel of

2

tablespoons sage, chopped
1⁄4 teaspoon garlic, granulated

1

teaspoon butter, or
ghee, or
Crust:.
Combine dry ingredients.
Cut cold margarine into dry ingredients, then work into coarse crumbles.
Add egg yolk, then 1 tablespoon ice water and assemble crumbles into soft dough, add one more tablespoon water if needed.
Press dough into 9 inch pie pan and refridgerate.
Preheat oven to 400 degrees F or 200 degrees Celsius.
Filling:.
Whip together 2 eggs, 1 egg white, cream cheese, herbs, sage, salt, grated lemon peel, garlic powder and arrowroot starch.
Spread shredded game into pie crust.
Pour egg mixture over meat into pie crust.
Top with flakes of butter, ghee or margarine.
Place pie pan on middle rack in the oven, bake at 400 degrees ca. 20 minutes.
After 20 minutes, reduce heat to 350 degrees and bake 20-30 more minutes.
The pie is ready as soon as the top is liht brown and crisp to the touch.
Serve hot with tomato salad.