Gluten-Free & Dairy-Free Coconut Cookies
Ewok610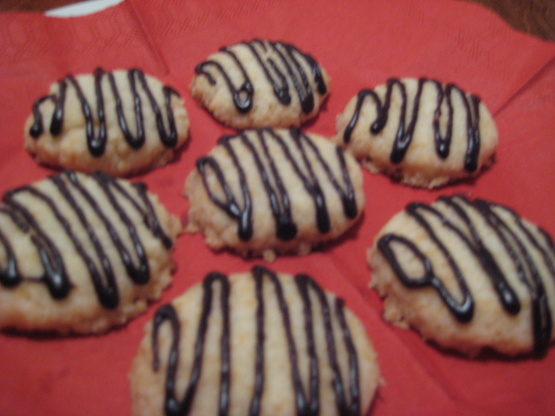 I came up with these while trying to make something as a Christmas gift for a friend who cannot have gluten or dairy products and these turned out pretty good (after a failed attempt at butter-free, gluten-free shortbread). I drizzled with some melted dark chocolate for a more elegant look. My friend gave it a great review, so I'm posting it here for others to enjoy. Bon apetit!

I have multiple allergies and a sweet tooth. These were wonderful! I used tapioca starch instead of the cornstarch and didn't have any orange extract so used vanilla extract but they would be good with citrus and I think lemon zest would be yummy too. My non-allergic husband and kids ate these up. Thank you!
Sift together the corn starch and flour in one bowl.
Mix the margarine and sugar until fluffy in another bowl (I did this by hand).
Add vanilla or orange extract, if using, to the margarine mixture.
Add flour mixture to margarine mixture and mix until combined.
Using a tablespoon measure, spoon onto a very lightly greased cookie sheet.
Bake at 350F for about 20 minutes until golden brown on the edges.
This will make about 16 cookies (2" in diameter).
You can drizzle with some melted chocolate after they have cooled for the extra flavor and visual effect.