Gluten Free Crumb Topping for Pies
Jubes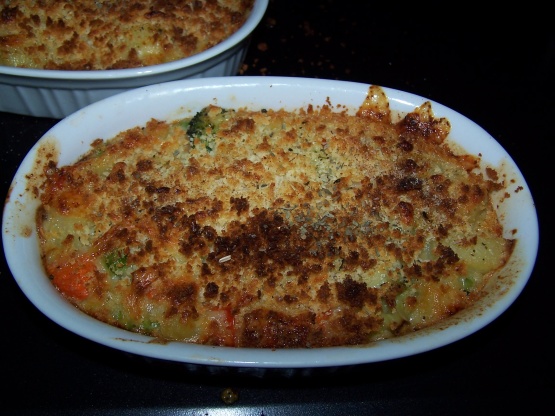 When I make potted pies for my family I always used frozen sheets of puff pastry for the top. Now being gluten free I either use mashed potato or breadcrumb topping. Here's my version of the crumb topping. You can easily vary the amounts to suit your taste or use a different cheese. I usually make breadcrumbs out of GF bread that is becoming stale and freeze them for future use. The pie in the photo I am posting was heated for 30 minutes at 200C....for a longer period of time use a lower temp. The topping can also be placed under the griller to brown over an already cooked pie filling.
4

slices gluten-free breadcrumbs
1⁄4 cup grated cheese (tasty, cheddar, parmesan)

1

dash dried basil
Mix the breadcrumbs and the grated cheese.
Spread over the top of the pie.
Sprinkle with dried basil or herb of your choice.
Cook as for regular pastry pies.