Gluten-Free Crescent Rolls
my.ldbug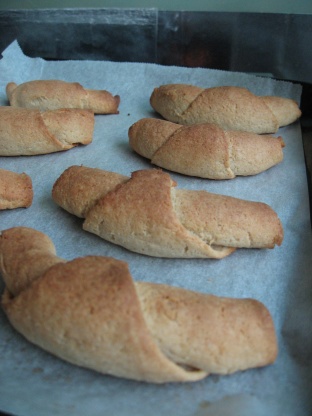 Posting this recipe as a substitute for Crescent Rolls. Being on a gluten-free diet this is one of those things that many people miss. An easy and versatile recipe. I was sent this recipe from a friend but think that it was originally developed by the "Better Batter Flour" people. You can use it as you would regular Crescent Roll Dough. Prep time does not include 2 to 3 hours refrigeration/resting time

Thanks for posting this really eassys recipe. I made the sweet version (adding in the vanilla essence as suggested). Kids loved it with the leftover cranberry jelly that I had made for our Christmas brunch and a spot of whipped cream that I had on hand. Only "drawback" was that I was expecting the rolls to rise a bit more than they did. But aside from that, the rolls were quite tasty!
Use an electric mixer or blender to mix together the butter and cottage or ricotta cheese. Mix well.
Add the dry ingredients and mix until a dough ball forms.
Wrap the dough in cling wrap and chill for two to three hours.
Preheat oven to 350°F or 180°C.
Sprinkle all-purpose or rice flour onto your work surface and roll the dough into a 14 inch circle. You may find it esier to roll the dough between two layers of good quality baking paper or cling wrap.
Cut the dough into 8 triangles.
Roll each triangle from the wide end to the tip.Turn the ends to form the crescent shape ).
Place the rolled crescents on a gresed baking sheet and bake for approx 20 to 30 minutes, until golden.