Gluten-Free Crepe Roll-Ups
katii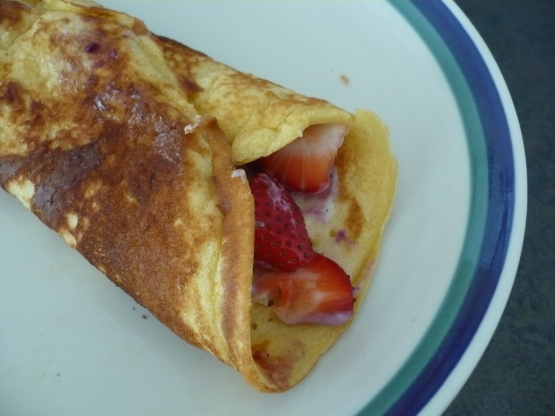 This is a sweet and decadent way to start your day. You can stuff them with anything from chocolate paste to whipped cream to fruit, or just roll them up with butter and berry sugar.
1⁄8 cup gluten-free pancake mix (I use Kinnikinnick's)
1⁄2 egg, beaten

1

pinch salt
1⁄2 teaspoon vanilla

3

tablespoons water

1

teaspoon jam

1

pinch cinnamon or 1 pinch vanilla sugar

2 -3

large strawberries, thinly sliced
Combine the mix, egg, salt, and vanilla in a bowl.
Whisk in the water.
Melt the butter on medium-high heat in a skillet and swirl to coat.
Pour the mixture into the skillet and swirl quickly to coat entirely. The mixture must be thin crusted.
Fry until golden.
Transfer to a plate and spread with jam.
Spinkle on cinnamon/sugar and add strawberries.
Gently roll up and serve.
Enjoy!