Gluten-Free Chocolate Crinkles
katii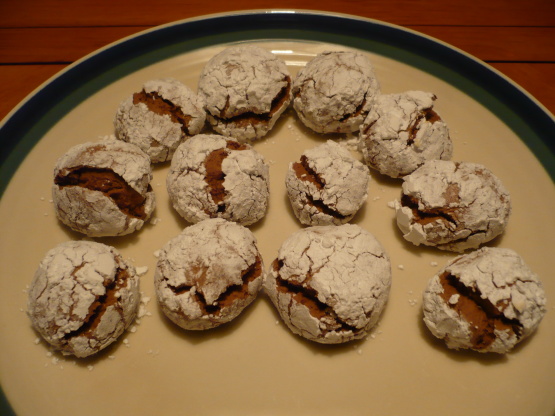 Soft, moist cookies that are as picturesque as they are yummy. Best if enjoyed the day of baking.

Excellent cookie. Easy to make, pretty and flavorful. I found that mine kept very well overnight. Sure they weren't fresh-baked tasting, but still after 3 days better than anything you can buy for triple the cost in a grocery store! Thanks, katii! - I used a #50 scoop and baked them in a commercial convection oven at 325. This recipe multiplied by 4 very well, and I only baked 3/4 of it the first day. I refrigerated the remaining dough and baked it the folllowing day, after letting it sit at room temp. long enough to get soft-ish.
Cream butter and sugar together.
Beat in eggs, one at a time.
Mix in vanilla and chocolate.
Stir in flour, baking powder, and salt together; add and mix well.
Shape into one inch balls and roll in icing sugar.
Arrange on greased baking sheets and bake in a preheated 350* oven for 8 to 10 minutes (DO NOT overbake).
Cookies will be quite soft.
Enjoy!