Gluten-Free Choco-Banana Oatmeal Cookies
katii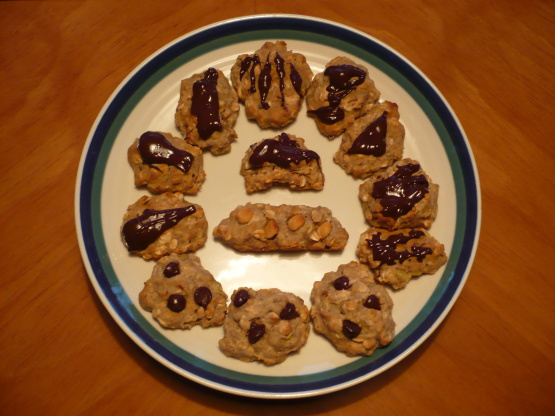 Moist little bites bursting with sweet banana flavour. Try with butterscotch chips for a smooth and creamy treat!
These didn't hold together for me and the texture was more like banana bread than a cookie. It tasted good, though.
1⁄2 cup butter
1⁄2 cup brown sugar
1⁄4 cup egg white
1⁄3 cup sweet rice flour
1⁄3 cup light stoneground buckwheat flour
1⁄2 teaspoon baking soda
1⁄2 teaspoon salt
1⁄2 teaspoon nutmeg

1

teaspoon cinnamon

2

ripe bananas, mashed
1 1⁄3 cups gluten-free oats (pure, certified gluten-free)
1⁄2 cup semi-sweet chocolate chips or 1⁄2 cup butterscotch chips
Cream butter and sugar together.
Beat in egg.
Mix in flour, soda, salt, and spices.
Add bananas and oatmeal; mix well.
Drop by spoonfuls on greased baking sheet.
Sprinkle with chocolate chips, or melt and set aside.
Bake 10-12 minutes in a preheated 400* oven until edges begin to brown.
If chocolates are melted, spread a dollop on top of each cookie.
Enjoy!