Gluten-Free Carrot-Zucchini Chocolate Cookies
katii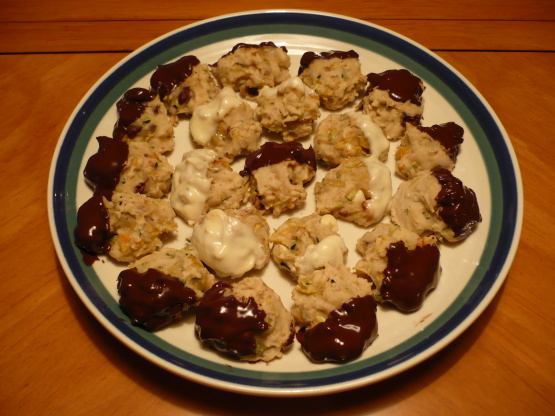 These yummy cookies will convert anyone who dislikes veggies. Soft and chewy, they are a delight at any age! Please note: If you do not want to see the vegetables in the finished product, peel the zucchini before grating and use white carrots.
In a mixing bowl, cream the butter and brown sugar; add the egg whites and mix well.
Add in flour, baking powder, spices, and salt; mix well.
Add milk; mix well.
Stir in zucchini, carrots, and orange; mix well.
Stir chocolate chips and mix until evenly distributed.
Drop onto parchment paper lined baking sheets by teaspoon.
Bake in a preheated 350* oven for about 15 minutes or until edges are golden brown and cookies have set.
Melt baking chocolate and dip each cookie halfway.
Let cool or eat while still warm.
Enjoy!