Gluten-Free Candied Ginger Cookies
katii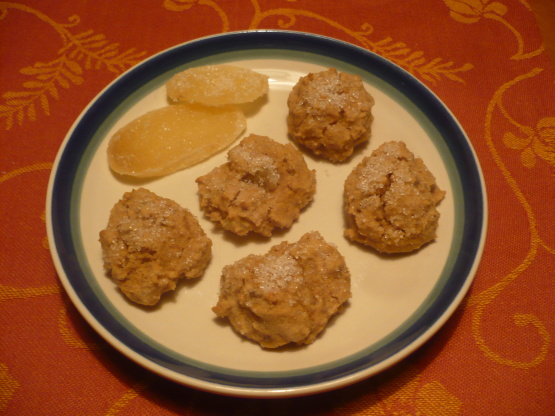 Sweet and spicy cookies with the pleasing 'bite' of ginger.

I failed in following the directions completely, and forgot the egg yolk and vanilla, so I used a lot more milk trying to get a good sticky batter. I used about 5 tablespoons of milk, and was going to complain about the recipe, when I realized that is was my own fault! So 5 stars for a recipe that is great even without the egg yolk, so I suppose this might be helpful for those who don't eat eggs?
Cream butter and sugar together.
Add yolk and beat well.
Add vanilla and beat until smooth.
Cobine next 7 ingredients in a bowl.
Add to butter mixture, mixing well.
Add milk, 1 tablespoon at a time, until a soft dough forms.
Roll dough into 2-teaspoon sized balls.
Arrange on greased cookie sheets and bake in a preheated 375* oven for 10 to 12 minutes until golden and tops of cookies appear cracked.
Let stand on cookie sheets for 5 minutes before removing to wire racks to cool.
Enjoy!