Gluten-Free Blonde Brownies
Prep 10 mins
Cook 30 mins
I have always loved this recipe. You can stir in nuts or chocolate chips if you want, though I love the pure, simple, maple flavor as is. Now I have made it gluten-free, and it is still amazing (no one knows). Can substitute two cups of any gluten-free flour for the mixture of three flours I have here.
Directions
Grease a 13x9" pan (may want to line a glass pan with foil). Preheat oven to 350°F.
Mix together flours, cornstarch, salt, baking powder, and baking soda in a small bowl.
Mix together remaining ingredients in a larger bowl, then stir in the dry ingredients.
Spread batter into pan, and bake for 25-30 minutes or until golden brown and done in the center.
Most Helpful
These are awesome! Next time I might cut back on the sugar a tad because they were almost too sweet, but, I still loved them! I'll be taking them to work tomorrow for yet another showing of how good gluten-free cooking can be :) Thanks! PS: they were a hit at work!!
Excellent! My BF and I LOVED this! We ate the whole thing in only one day, and we were only the 2 of us...<br/><br/>I'm a little desperate about sweet baked goods since I'm gluten-free and dairy-free. And this, I loved! The texture was perfect. Chewy, tender and crunchy at the same time, mouth-melting and not oozing with fat as I had feared. The only thing is it was still a little too sweet for my liking, even though I had followed Lingering_Dream 's advice and reduced the sugar by 25%. Also, the molasses taste from the brown sugar was a little overwhelming for me, so next time I'll be using organic golden sugar instead, or perhaps demerara.<br/><br/>I used sorgho instead of cornstarch, and used half rice half buckwheat, and no problems resulted from these subs. I also used the seeds from 4" vanilla pods intead of the extract, which imo tastes even better! Also, I think I'll try them in muffin tins, because I'd like them to be more uniformely cooked (there was a crunchy edge that formed in mine, contrasting with the soft center, and I would like to have those 2 textures in every piece instead of crunchy and soft pieces).<br/><br/>Edit (Sept. 24, 2014) : the muffin tin method was perfect! They cooked more quickly, though, but I didn't measure the time I only watched them closely (sorry, you'll have to test if you want to try too...)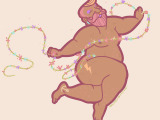 These are excellent brownies! Just like I remember them as a kid. But I made a BIG mistake and doubled the recipe and put it in the same size pan. The batter didn't look like it would be enough for a 13x9 pan, so I made some more! OOOPS! The brownies rose so high it spilled over into my oven. HUGE MESS! This is not the recipes fault, it is my failed experiment! The recipe is fantastic the way it is, if a bit sweet. But I remember the original blonde brownies were that sweet too, from the Betty Crocker Cookie cookbook. I was pleasantly surprised they held together without xanthan gum. This one is a keeper!