Gluten-Free Bittersweet Decadence Cookies
Nif_H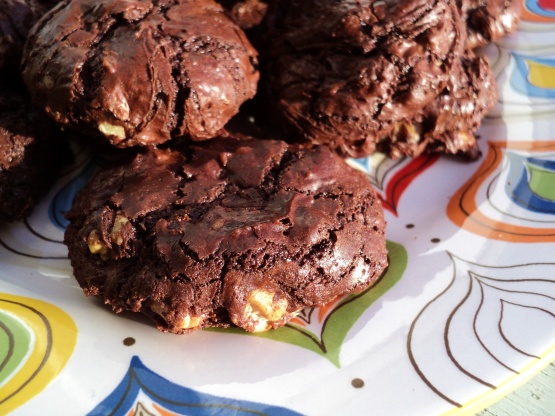 Just what the name says! You can use different kinds of chocolate to suit your taste. This recipe uses rice flour, but you could switch it out for the flour that you prefer. Enjoy! Adapted from LemonPi and based on Alice Medrich's recipe from Bittersweet.

Top Review by Nif_H
If you like chocolate with your chocolate, then this is for you! I used dark chocolate chips for this recipe and AP flour. I had to replace the pecans with walnuts and that worked just fine. Really good, really decadent cookies, like the name says! Made for Newest Zaar tag game. Thanks Sharon123!
Preheat your oven to 350*F.
In a bowl, mix the flour, baking powder, and salt, set aside. Place 8 ounces of bittersweet chocolate chips and butter in a medium microwavable bowl and heat for 1 minute. Stir the chocolate butter mixture and microwave again for 30 seconds. Continue to microwave and stir until the chips have melted and the mixture is smooth, set aside.
In a heatproof bowl, whisk the eggs, sugar, and vanilla thoroughly and set the bowl over a pot of just barely simmering water using it as a double broiler. Continue to whisk everything until the mixture is lukewarm.
Combine the egg and chocolate mixture (should be lukewarm) stirring until they are well combined.
Add the flour mixture, 6 ounces chocolate chips, and pecans. The batter will look like thick cake batter. Don't worry, after they bake they will look like and taste like cookies!
Scoop the dough (it will look wet and sloppy) into rounded tablespoons on a cookie sheet lined with parchment paper, 2 inches apart.
Bake 14 minutes until the surface of the cookies looks dry and set. With the cookies still on the parchment paper, slide them onto racks to cool. Gently peel the parchment paper back after cookies have cooled for at least 30 minutes.