PaulaG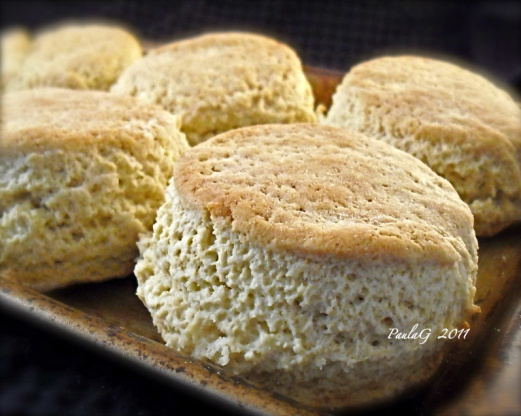 This recipe was found the bag of guar gum I purchased from Bob's Red Mill. These are absolutely the best tasting gluten free biscuits ever.
We made these to have for biscuits and gravy! They worked really well! I would not eat these plain, but for sure with butter and jelly or gravy! MY only tip would be to sort of roll them in a ball and squish slightly. I didn't find them to rise real well. Our biscuits were soft and had a good texture, but flat. The second batch I i made like cookie dough balls and they were PERFECT!
Preheat the oven to 450°F Lightly spray a baking sheet with non-stick cooking spray and set aside. In the bowl of the food processor that has been fitted with the metal blade, add the flour through salt. Pulse a couple of times to combine.
Cut the shortening into small pieces and add to the flour mixture. Pulse several times to incorporate. Beat together the milk and egg white. Add to the processor bowl and mix until dough forms a ball and pulls away from the bowl.
Lightly flour a cutting board or counter top with the all-purpose baking flour and turn out the dough. With wet hands pat dough down, sprinkle lightly with additional flour and roll gently to 3/4 inch thickness. Use a lightly floured 2" biscuit cutter to cut into 6 biscuits. Place on prepared baking and bake 12 to 15 minutes. Half way through baking, brush the tops with melted butter.