katii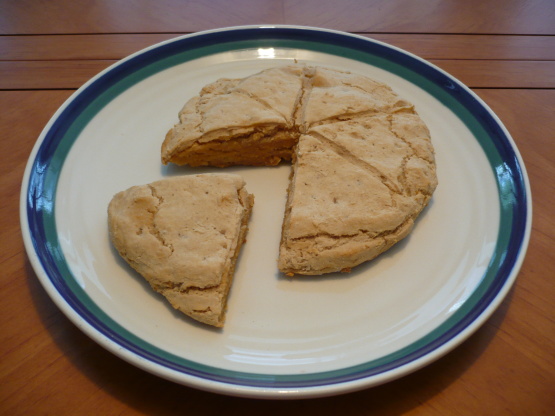 A simple quick bread that is scrumptious when hot from the oven. Perfected when served with a dollop of raspberry preserves!

I tried this bread because I did not have any eggs on hand and wanted bread. It turned out ok, but quite salty. I would only put in 1/2 t salt next time. Other then that it was pretty good. Also very easy to make. I used 1 C Sorghum flour, 1 C Rice flour, and 1/2 C tapioco flour. Its also a little crumbly, but I was expecting that as well!
In a large bowl, combine flour, molasses, powder, and salt.
Cut in butter until it is in tiny pieces.
Add potatoes and stir well.
Pour in milk and stir with a fork to form a ball.
Turn out onto working surface and knead 10 times.
Divide into 4 equal portions (rounds) and pat down to 1" thickness.
Bake in a preheated 400* oven for about 25-30 minutes until brown.
Cut into wedges, slices, or simply pull off pieces of the round.
Enjoy!