katii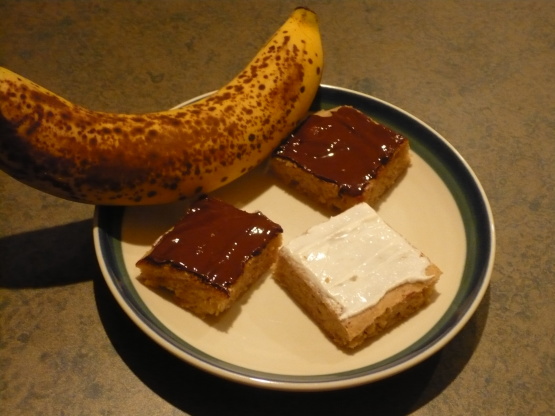 I love these bars! They are great for a quick breakfast,a yummy snack, or just something extra special to slip in your child's lunch box. Plus they freeze great! I hope you enjoy and find these as handy as I do!Enjoy!

Top Review by katii
These are quite good. They hold together well and don't have that tell-tale gf 'sand' taste. However, they are a little tough and the banana flavour isn't as strong as I would like it to be. But still a nice tasty treat! I frosted some with melted chocolate chips and some with melted yogurt chips - I liked the yogurt one better, but my mum like the chocolate.
Preheat oven to 350 degrees.
Grease a 9 inch square pan with shortening or spray with vegetable oil spray.
In a small bowl, whisk together the flour, xanthan gum, baking powder, and salt. Set aside.
In the bowl of your mixer, beat together the mashed banana and both sugars until blended.
Add the buttermilk, egg, oil, and vanilla. Beat well.
Stir in the dry ingredients until just blended (do not beat!)Fold in the nuts.
Spoon the batter into the prepared pan.
Bake for 25-30 minutes or until a tester comes out clean. Remove from the oven and keep the cake in the pan.
Stir together the icing sugar and liquid until just thick enough to drizzle well.
Drizzle in a zigzag pattern over the cooling cake.
When cold, cut the cake into 12 bars.