Gluten-Free Apple and Sour Cherry Cake
JustJanS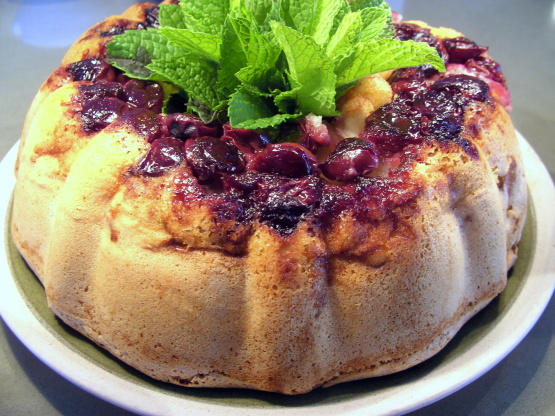 I found this recipe in a newspaper and immediately thought of a fantastic lady **Jubes**, who likes to cook gluten free, and has some great gluten free recipes for any-one who has an intolerance. I have been lucky enough to have found and since converse with **Jubes** through here Recipe Zaar, and I sent her this Gluten free recipe, which **Jubes** made for herself and her family. Both **Jubes and I think it would work well with regular flour, but as yet I have not tried (but am going to). This recipe is called a cake, but **Jubes** suggests its more of a pudding type cake, but also says its super easy to make!!! So I have **Jubes** to thank for this recipe being posted!!!!! Thanks Mate!!!!

I'm not sure what happened, but my cake did not cook. I used a 9 inch round pan and baked it at 350 degrees F for 45 minutes before reducing the oven to 300 degrees F for another 45 and though it was golden and tested done, the center was raw when I cut into it. I made the cake substituting 2 (drained) cans of sweet cherries for the apples and the flavor was great--I will try this again and maybe bake at 325 and make sure the eggs are fully up to room temperature. Thank you!
Preheat oven to 180c. Line 22cm cake tin with baking paper. Peel apples and slice into thin pieces.
Whisk eggs, lemon zest and sugar until thick and creamy (about 8 minutes).
GraduallY fold in flour. The batter should be the consistency of sour cream.
Pour oil in the pan.
Arrange apples and cherries in the bottom of oiled pan. Pour the batter evenly over the fruit.
Bake the cake for about 40 minutes or until golden and cooked when tested.
Rest cake on rack for about 5 minutes before turning cake upside down on to a plate. Sprinkle with cinnamon sugar and serve warm with whipped cream.