Gluten & Dairy Free Miracle Sandwich Bread
ajandme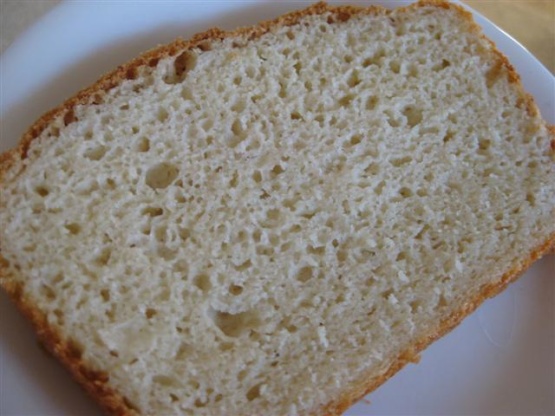 This loaf has a beautiful crust, is the size of a "real" loaf of bread, and tastes wonderful! It stays fresh for a couple days on the counter (unlike other gluten free breads). You can view more of my recipes at www.allergyfreealaska.com.

Top Review by Crisci
This is the easiest as well as the best gf sandwich bread I have made yet. Thank you for sharing the recipe. I have already made it twice, using honey instead of agave and quinoa, sorghum & millet flours instead of almond (what I had), and have another rising now for dinner tonight. Even my DH, who refers to gf bread as the fake stuff, loved it. The only other deviation I made was using bread machine yeast instead of rapid rise yeast. I still let it sit to "activate" for the 10 min. The loaf turned out so light and tasty! I can't believe something so good was so easy to make. It didn't get crumbly after sitting out on the counter for a couple days.
In a small mixing bowl, combine the honey and the warm water; mix until the honey is dissolved. Sprinkle in the yeast and give it a quick stir to combine. Allow to proof for 10 minutes (set a timer!) - NO more, NO less time. Make sure you have the other wet and dry ingredients mixed and ready to go when the 10 minutes are up!
Using a heavy duty mixer, combine the dry ingredients.
In a separate mixing bowl, whisk together the eggs, oil, and vinegar.
When the yeast is done proofing, add the wet ingredients to the dry. Stir until it's a little paste-like, then add the yeast mixture. Using your mixer's low speed setting, mix for about 30 seconds. Scrape the sides of the bowl then mix on medium for about 2 minutes or until the dough is smooth. (You may need to stop your mixer and scrape the sides of your bowl a few more times.).
Pour dough into a parchment lined and well greased 9 x 5" bread pan and cover with plastic wrap. Allow to rise for 45-60 minutes (Check the loaf 30 minutes into rising. When the dough is close to hitting the plastic wrap, remove it; allow the dough to rise the remaining time uncovered.) When the dough is just starting to crest the top of the pan, bake for 30 minutes in a preheated 375 degrees (F) oven.
Remove loaf from pan and allow it to cool on a wire rack.
Enjoy it!