Gluten and Wheat Free Banana Honey Muffins
katii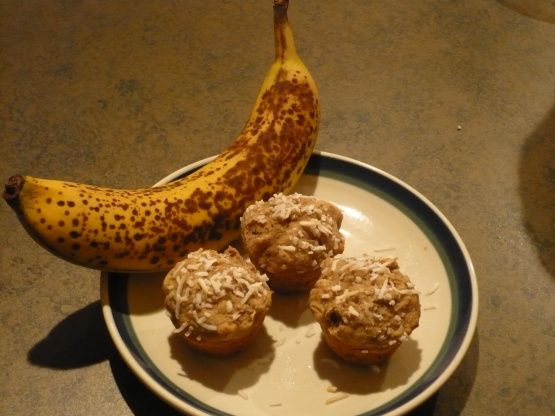 My husband and youngest two like these, our eldest doesn't. If you don't like brown sugar just substitute with more white. I use Australian metric measurements.

Top Review by katii
I absolutely love these! They were so moist, tender, and held together very well. i used guar gum instead of xantham gum, because that's what I had on hand. I also topped them with coconut because I'm a coconut fanatic. They rose so high, which is great because many of my gluten-free muffins have been short and dense. Thanks for this delicious recipe!
Preheat oven to 180c (350f) or 160c (320f) for fan forced. Lightly grease muffin pan (I use 1/3 cup muffin pan).
Sift flours, bicarb, baking soda, xantham gum and salt together, set aside.
In a separate large mixing bowl, mash banana (I use a fork to mash and mix throughout this recipe), add egg, canola oil, honey, butter and sugars, mix well.
Add dry ingredients to wet ingredients, mix until well combined.
Spoon into prepared muffin pan, bake for 20mins.
Cool on cooling rack.
Serve warm or cool, with or without butter.