gailanng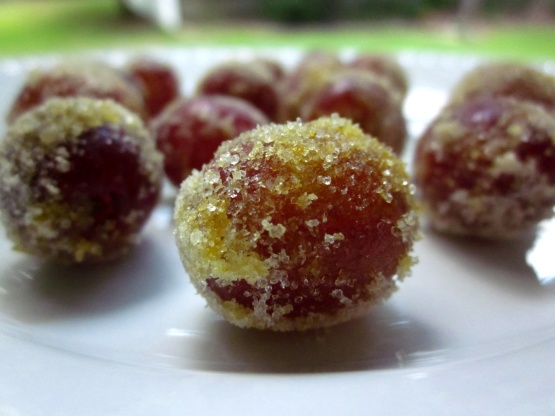 A simple, yet healthy snack that will help satisfy your sweet tooth without making you feel guilty. Try any number of flavor combinations. I use sugar-free jello, but you can use regular. Cook time is chill time. I got this recipe from a message group I belong to, hope you enjoy it!

Lime is lovely! It tastes like sour patch kids! I might freeze the grapes during the summer... mmmm.
Spread about 1/4 of the the gelatin mix on a pie plate or plate of your choice. Rinse the grapes under water, and place a handful on the plate.
Shake the plate gently to roll the grapes in the gelatin, coating the grapes. Place coated grapes into a bowl.
Repeat with the remaining ingredients until all of the grapes are covered.
Place the bowl and let set in the refrigerator for at least an 1 hour, until the gelatin is set.
The colder they are the better.