Glen's Yummy Baby Back Ribs
karadale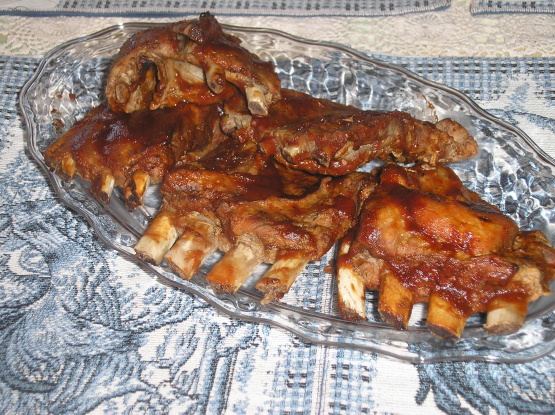 I experimented this one. Check it out.

I chose this recipe because of the hot chili sauce an ingredient that I enjoy using in many recipes, I did make a few changes to the recipe, I used fresh finely minced garlic in place of garlic powder, increased the onion to two, used seasoned salt in place of white salt and increased the brown sugar slightly, I cooked this on low heat in my outdoor grill in a large heavy disposable foil pan, I was not about to turn on my oven on in 90 degree weather lol! The combination of flavors in the recipe is outstanding, this is a rib recipe I will be making again soon, thank you for sharing!...Kitten:)
Place ribs bone side down in a large roasting pan.
Combine garlic powder, lemon/pepper and salt, sprinkle over ribs.
Top with chopped onion and minced garlic.
Cover tightly and bake 350 degrees for 2 1/2 to 3 hours.
In a bowl, combine the remaining ingredients.
Drain fat from pan.
Brush ribs with half of the barbecue sauce.
Cover and bake 30 minutes longer or until ribs are tender.
Serve with remaining sauce.
ENJOY!