Glens of Antrim Irish Stew
Derf2440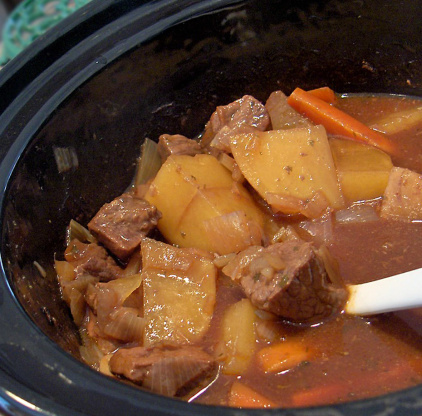 Recipe from: Glens of Antrim region of Ireland – per Liam Neeson

Found this recipe ten years ago on an internet search for "Irish Stew" and it has become a St. Patrick's Day and cold-weather favorite at our house. I make it with beef and red wine, and the finished product is always savory and filling. Have some Irish soda bread or crusty French bread on hand to soak up the broth - the "sopping" (as we say in the South) potential with this one is outstanding! Erin go Bragh, ya'll!
Melt the butter in a large pan and fry the meat in it until browned on all sides. Do not crowd the pan; brown the meat in two or three batches if necessary. Remove the meat from the pan, add the onion and carrots and cook until slightly softened.
Return the meat to the pan, add the flour, if using, then stir in the stock, tomato puree and sugar. Bring to the boil and then reduce the heat to a simmer. Add the potatoes, if using, the Guinness or the wine, the bouquet garni and salt and pepper to taste.
Cook over a low heat for about 1 to 1 1/2 hours or until the meat is tender. While the stew is simmering, add 4 or 5 drops of Tabasco to taste.