Glenda's Flourless Peanut Butter Cookies
GaylaJ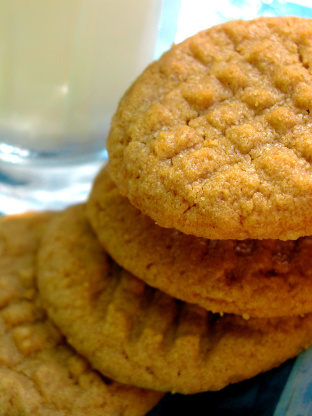 I had SEVERE reservations when my wife first ininflicted these on me, but they are WONDERFUL! And easy to make!

I have been using this recipe for quite a while and have made quite a few variations on it. They always come out great! I am just pulling some out of the oven that have added 1/4 teaspoon of butter extract and also some chocolate chips. These are the peanut butteriest tasting peanut butter cookies that you can make so if you are a fan, do make these. I found that the sugar can be increased or decreased without any ill effects so feel free to make them a little sweeter or a little less sweet as your tooth dictates. This recipe can easily be doubled, too. I am a cookie glutton so I usually get about 10 cookies from this recipe (I make them quite large). One thing, though...these are the only cookies that I make that I grease my cookie sheet. They do stick a bit when taking them off of my cookie sheet and because they contain no flour, they are a little fragile until they set up a bit while cooling.
Combine all ingredients in a medium bowl.
Shape dough into 1" balls.
Place 2" apart on an ungreased baking sheet, and flatten in a criss-cross pattern with a fork.
Bake 8-10 minutes at 350°.