Glazed Tzimmes (Crock Pot)

From a crock pot cookbook (not sure which one) submitted by Elaine Vigoda from Rochester, NY. Perfect for the busy Jewish holidays or for an interesting harvest side dish!
Directions
Combine all ingredients in a large slow cooker and cover.
Cook on low for 10 hours.
Most Helpful
The store was out of squash, so I added another sweet potato and a bit of extra liquid. I used Trader Joe's spiced cider instead of the apple juice and spices, and used a pound of baby carrots. It was delectable wtih our Thanksgiving turkey! My kids are busily eating up the leftovers and it may become a Thanksgiving tradition. :)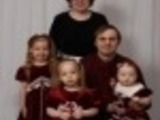 This recipe was simple and delicious. I made some very minor adjustments... dried tart cherries instead of apricots...YUM, and dehydrated onion (stick with the real thing. ) It was done in far under 10 hours leading me to believe that my crock pot's "low" setting might not be low, but the good new is that based on this, if you're pressed for time, you might be able to cook it on "high" for 4 or 5 hrs.