ChefLee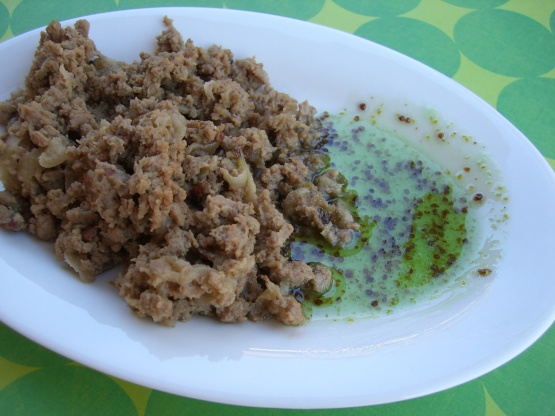 I found this recipe on the back of a package of ground turkey from Butterball. This has several unique combination of food and seasonings. Try it you will enjoy it!

I've been cooking these meatballs for years (I also found the recipe on the back of a Butterball ground turkey package)! They're the best! My kids used to fight over them when they were young. Use "apple jelly"...it's hard to find, but worth it. Apple mint jelly isn't nearly as good (tried it). And, what's with the picture? It looks like dog food with green slime. I'll make it and take a better picture for you. Great served over rice. The sauce is fantastic...double the ingredients. Try this one, you won't regret it!
Combine turkey, apple, salt and garlic powder in a medium bowl.
Shape into 16 meatballs, about 1 1/2 inches in diameter.
Heat oil in a large skillet over medium heat.
Add meatballs; cook and turn until browned, about 8 minutes.
Stir together jelly and mustard in a small bowl; spoon over meatballs.
Simmer an additional 8-10 minutes or until glazed, turning meatballs several times.
Sauce will thicken as it cooks.