Glazed Sugar Snap Peas With Turnips
Rita1652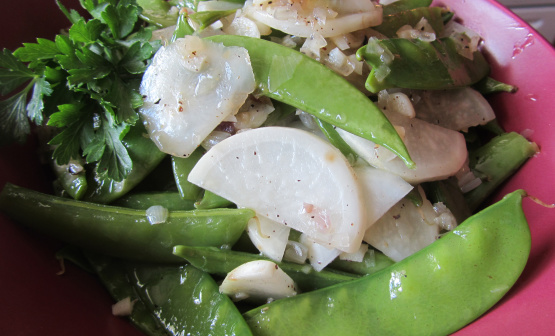 Adapted from Food Network Magazine The Chocolate Issue 2012

I loved this combination! I couldn't find fresh sugar snap peas, so had to use frozen. So I cooked my turnips before my sugar snap peas. Then sauteed in olive oil and garlic with shallots. Delicious!
Bring a medium sized pot to a boil and add salt.
Cook peas for 3 minutes.
Add turnips and continue cooking another 2 minutes.
Meanwhile, in medium sized pan, over medium heat, saute the shallots in oil until translucent.
Add garlic and fry until fragrant.
Add drained vegetables along with the sugar and stir until glazed.
Adjust seasonings.
Sprinkle parsley on top and serve immediately.