Ellee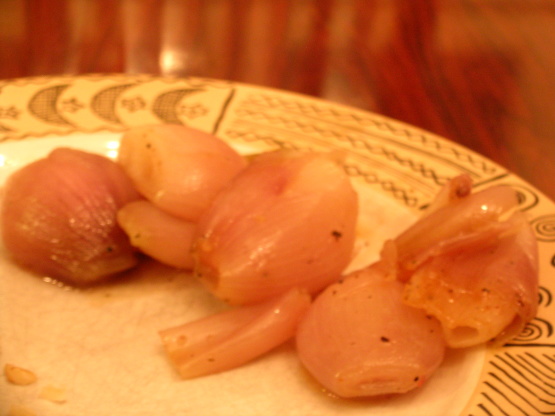 Forget about using shallots in a recipe. Eating them glazed is it's own side dish. Everyone who taste this, loves it. I don't know the cooking time.

Top Review by Ellee
This is a great way to prepare shallots. I don't know why they aren't more popular as a stand-alone vegetable? My kids and DH enjoyed these and it was a nice change from our usual vegetables. The cooking over med-high heat took about 20-30 minutes before the water evaporated. At that point the shallots were soft but not falling apart and were nicely sweet and salty.
Peel the shallots.
Melt 2 ounces margarine in heavy pot.
Add the whole shallots.
Sprinkle with sugar.
Season to taste with salt and pepper.
Fill pot with water just to cover shallots and cook over a medium-high heat until the water has completely evaporated, stirring occasionally with a wooden spoon.